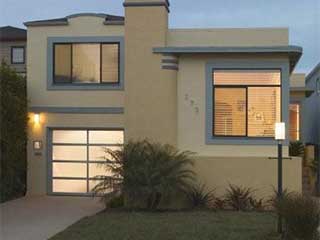 Getting a brand new garage door is not a choice you make quickly. This is because getting a new garage door for your home is a great investment which can make your home more attractive, and also, according to real-estate experts, increase the value of your home. Nonetheless, here are five things you should consider before pulling out your credit card.
Do You Really Need a New Door?

Well, as we all know nothing built by man lasts forever, including garage doors. It is normal to have your wooden garage door depreciate and rot due to moisture, termites, etc. or your metal doors dent due to external mechanical impacts, and rust due to prolonged exposure to dampness. If you're currently experiencing any of these and are spending huge bucks on constant repairs, then you need a new garage door. If it's just a damaged component that can be fixed by an expert, then you probably don't need to replace the entire door.

What Type of Door do you Need?

Let's say you've done a thorough evaluation and have come to the conclusion that you need a new garage door. Kudos to you! Next, you need to figure out what type of garage door you need. This can be based on the material it is made of such as wood, aluminum, or steel. Each of these materials has their pros and cons. You can also choose your garage door based on its style that includes custom, carriage house, contemporary, or traditional doors. It's important to choose a style that is in line with the appearance and feel of your home. Last but not least, you should choose a garage door that fits your budget in terms of maintenance.

Do you Need an Insulated Door?

The answer is most likely a resounding yes, especially if you have your garage attached to your home. This is because weather-proofed/insulated doors are very energy efficient and can save you costs on heating (in winter) and cooling (in summer). Although they are more expensive in the short term but they will save you running expenses with regards to climate control.
If your garage isn't attached to your house then you can get a non-weather-proof garage door, which by the way is cheaper than its insulated counterparts.

Do Doors Come With a Warranty?

Warranties are an important feature to consider when purchasing any item, including garage doors, as they help instill trust in the manufacturer. It is important to familiarize yourself with the type of warranty the manufacturer of the door you want to purchase is offering. Be aware of what is covered in the warranty and the duration and be sure to make selections based on your specific needs.

Should you also change your opener?

Maybe! Getting a new opener with your new garage door isn't necessary, except in a case where your current opener is faulty beyond repair or will not be able handle the weight of your new door. If your opener is still in good working condition be sure to purchase a door that won't be too heavy for your current opener to lift. Preferably go for a door that has the same weight as your current door.