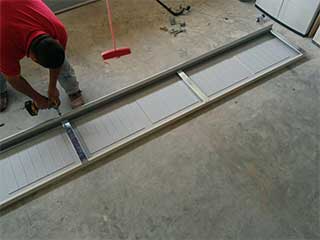 A stuck, broken or damaged garage door can be a massive frustration for your household, especially if you find yourself unable to get your car in and out of your property. We know that getting your door fixed is likely to be top on the list of priorities for you as a homeowner. Luckily, our team of expert technicians will do everything to ensure you receive lasting repairs in a short space of time.
Detecting The Problem
Our technicians don't just address symptoms, they work to discover the root causes of the malfunction at hand. We don't believe in simply putting a band-aid over the problem, we do all we can to ensure the problem doesn't recur again in the future.
Checking For Further Damage
When components fail, they can cause knock-on damage to other parts in the system - if a spring breaks, for example, and you try to open your door, this will place additional strain on other parts like the opener and cable, possibly laying the groundwork for additional problems in the future. Our technicians will carefully assess your entire door system for damage and highlight any causes for concern you may not know about yet.
Restoring The System's Condition
When a garage door fails, it's often because individual parts have worn over time. This can be indicative of the door's overall condition, and is often a sign that the system is in need of professional maintenance work. Our team of experts will check whether your system is in need of an additional service check and advise you on the best course of action.
Contact Our Team Today
Our technicians are highly experienced and will always work quickly to get your door functioning properly with minimum disruption to your daily routine. Whatever the issue you're having, minor or major, our team at Garage Door Repair Richmond can help – contact us today!
We also offer:
Garage Door Tune Up Services
Oil Tempered Torsion Springs
Garage Door Off Track Repair