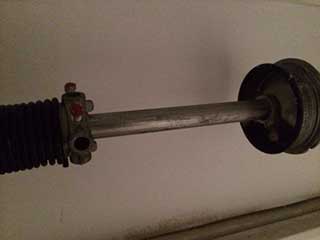 Garage doors are made up of many different working parts. When some components break, you may still be able to get some use from your door, however if you're dealing with a broken spring, your door will fail to function.
The springs are responsible for the opening and lifting of your door so if they're considerably worn (or have already snapped), you should call an expert right away.
Extension & Torsion Types
Extension garage door springs are the most common type and typically come in pairs - they're located along the overhead door track on each side. Torsion kinds, by contrast, are mounted on to the header directly above the door and use torque to function rather than extension and retraction.
In either case, when something goes wrong, you shouldn't try to handle these parts on your own - they can be unpredictable and dangerous so we really advise you contact our technicians if you're experiencing problems with your springs.
Replacements You can Trust
All our technicians are trained and have extensive experience when it comes to replacing overhead door springs. We can also assure you that we source all of our replacement parts from trusted manufacturers so you don't have to worry about dodgy, substandard new components negatively impacting your door system.
Emergency Spring Repairs
When a spring breaks, we know you will need someone to get to you quickly, that's why we offer same day and emergency services – when you call us, we'll do our best to schedule your appointment for as soon as we can so that you can get on with your day.
Give Us A Call
Our dedicated professionals are here to help with any spring replacement or maintenance need you have – you have our guarantee that we'll ensure your system is completely safe to use after we've visited your property. Call our garage door repair technicians today in Richmond, we'll be glad to hear from you!
Our team can also take care of:
Bent Garage Door Track Repair
Belt Drive Garage Door Openers
Emergency Garage Door Services
Liftmaster Chain Drive Lubrication