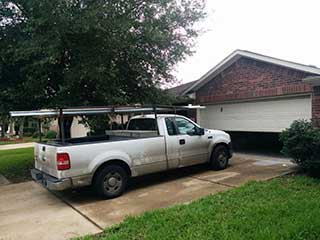 It's More Important Than You Think
While regular garage door maintenance may not sound like it's anything too vital and something that could be skipped in favor of other pressing home projects, it's unwise to let it fall to the wayside! Maintenance both helps to elongate the lifespan of your door overall so it'll be working well for years to come, as well as prevents sudden breaks that will leave you stuck when you have places to be. Rather than deal with sudden stress, make sure that your door will be reliable and open and close when you really need it!
We Offer Quick Tension Adjustment
If you've been noticing odd issues with your door such as it not wanting to close correctly, or that the door looks like it's cockeyed, it may be time for a tension adjustment. If there's too much tension it prevents your door from shutting as it should, and this can leave your home, as well as anything stored in the garage, open to intruders. Too little tension is also an issue, as it's what causes the door to be off balance, and this strains the springs and wears them out to break more quickly. That's why we're here to get it all back to normal!
Simple And Effective Part Lubrication
Keeping your garage door's parts properly lubricated both increases the longevity of them overall, and also assists your door to move more swiftly and smoothly as well! Parts such as the springs can become brittle over time, and this makes them more apt to snap. Lubrication eases this problem by making them more limber again, as well as allowing them to move and function more easily in general. This way your door won't drag and scrape, and you won't find yourself needing a part replacement quite so fast either.
Talk To One Of Our Experts Now
Make the call today to Garage Door Repair Richmond to get your maintenance appointment scheduled and your door on its way to working like a breeze again! You'll only regret not contacting us sooner.
Couldn't find what you're looking for? We also offer:
Garage Door Troubleshooting Services
Genie & Liftmaster Opener Services
Galvanized Torsion Spring Replacement
Overhead Door Repair & Installation